Welcome to the Windermere Suites, an owner-managed luxury hotel in Windermere, located just a short walk from the lake and its unrivalled World Heritage landscape. Our collection of eight luxurious suites includes three with patios and two with private entrances – and all share the same stunning interior décor, huge air baths, and baroque-style beds with sumptuous bedding.
Our award-winning suites are the ideal destination for a romantic or luxury break in the heart of the Lake District. Grasmere, Coniston, Keswick and attractions such as Dove Cottage and Blackwell are all within a 20 to 40-minute drive, and Windermere railway station is only 10 minutes up the road.
You are welcome to use a nearby spa during your stay, and we can arrange in-room extras to make your time with us extra special. We create a cocoon of privacy for you and even breakfast is served in your room to be enjoyed at your leisure. We hope you'll find that we are very easy to get to, but very hard to leave!
Choosing luxury hotels Windermere
We're a small but perfectly formed team. Owner Vicky, is effervescent and hugely knowledgeable – do ask for recommendations of places to explore during your stay. And, if you have any further questions about which suite would be best for you, please do call 015394 47672.
Here's an overview of the three levels of luxury suite that you can choose from…
Luxury Suites:
Super Luxury Suites: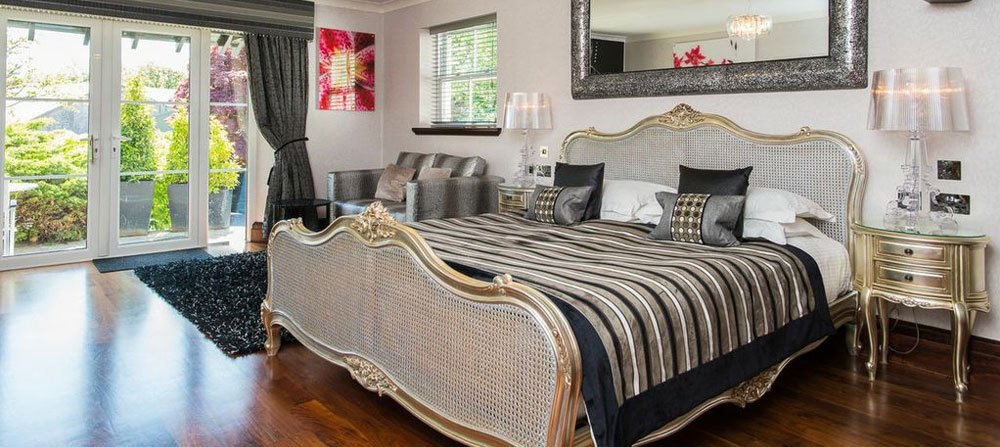 Ultimate Luxury Suite:
Reviews of our luxury hotels Windermere
One of our favourite reviews of all time came from the Telegraph – it captures everything that our guests tell us they enjoy about the Windermere Suites:
"A bold and unashamedly sexy b&b with lashings of black and silver, and huge mood-lit bathrooms that place an emphasis on relaxation and romance. Lazy breakfasts are served in-room, and there are restaurants nearby for evening meals."
Helpful links:
The 10 most beautiful spots in the lake district
Contact us