Welcome to the Windermere Suites, an award-winning boutique B&B in Windermere located just a short walk from the lake and its unrivalled World Heritage landscape. The Windermere Suites are a collection of eight individual suites each named after a town or village in the Lake District. They all share the same stunning, luxurious décor throughout, huge air baths, and baroque-style beds with sumptuous bedding.
Our suites are the ideal destination for a high-end bed and breakfast stay in the heart of the Lake District. Grasmere, Coniston, Keswick and attractions such as Dove Cottage and Blackwell are all within a 20 to 40-minute drive, and Windermere railway station is only 10 minutes up the road.
Our bed and breakfast guests are welcome to use a nearby spa during their stay, and we can arrange in-room extras such as fizz on ice, and delicious chocolates. We have a delicious room service menu and we create a private haven for you during your stay – even breakfast is served in your room.
An owner-managed boutique B&B Windermere
Our team is small but perfectly formed and, as you'd expect from a boutique hotel, we pride ourselves on our level of customer service. Owner Vicky, is effervescent and hugely knowledgeable about the area – do ask for recommendations of places to explore during your stay. If you have any further questions about which suite would be best for your bed and breakfast stay, please do call 015394 47672.
Here's an overview of the three types of suite that you can choose from…
Luxury B&B Suites:
Super Luxury B&B Suites: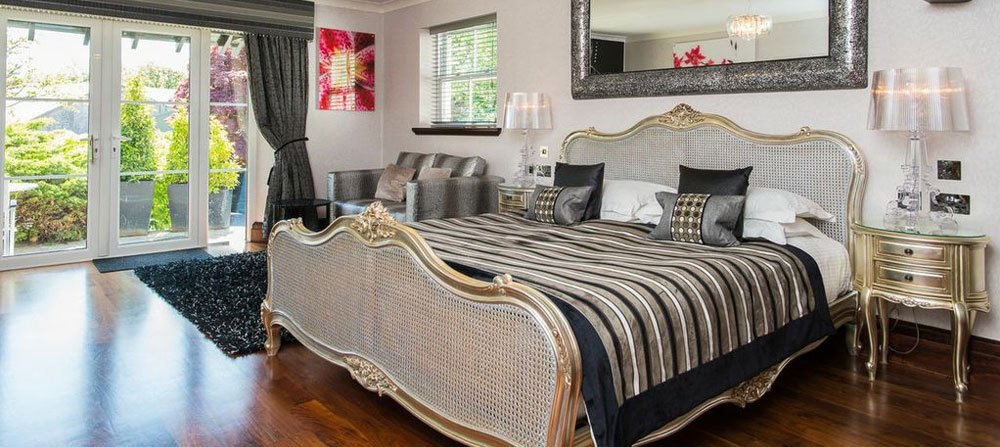 Ultimate Luxury B&B Suite:
Reviews of our boutique B&B Windermere
Our guests are kind enough to leave great feedback about our boutique hotel, and the in-room breakfast service is often one of the things that gets first mention:
"A very relaxed start to the day with breakfast delivered to the room via a hatch, and a call to let us know when it was ready. Great choices on the menu and a range of times to suit. Vicky and her staff were extremely friendly and helpful. We can't wait to come again for our first anniversary. Thank you Vicky for a wonderful stay."
"Breakfast was served in the room, and was amply large and of a high quality. Tip: order the porridge with almonds and honey, a first for me but delicious! My wife and I loved the place!! It's just such a fun experience staying there that any adjectives I use won't do the place justice! I gave it a five rating only because I couldn't give it a six!"
Helpful links:
Review from; The best boutique hotels in the world
Contact us